Ernie Haase + Signature Sound
REGISTER FOR THE 2024 EHSS FAN RETREAT
REGISTER HERE
Join Ernie's email list. The E-Team!
WANT TO BOOK AN EHSS CONCERT?
CLICK HERE
About
Ernie Haase
Doug Anderson
Dustin Doyle
Paul Harkey
Ernie Haase
Tenor Vocalist
Ernie and Lisa make their home in Stow, Ohio, the foundation for StowTown Records. Ernie started his legendary quartet (EHSS) in 2003. Then, in 2011, he helped begin this specialty Southern Gospel record label along with good friend and fellow co-founder Wayne Haun.
The Newburgh, IN, native grew up enjoying the sounds of Gospel music and, more specifically, quartet music. His favorite quartet was the legendary Cathedrals.
"I remember going to hear them sing anytime they were near my hometown. When I was a teenager, I would always show up early, sometimes even before they did, and help them unload their bus. It was my dream to sing with them one day."
That dream became a reality in 1990, when Ernie received the call to join his favorite quartet. At the time Ernie, who had previously sung with renown songwriter Squire Parsons in his quartet, Redeemed, was doing solo concerts and traveling in his car wherever he was invited to sing. On one particular night in the spring of 1990, Ernie was invited to sing at his alma mater, Oakland City University. Also scheduled at the concert was the Cathedrals. Little did Ernie know that his performance that evening would serve as his unofficial audition for the legendary quartet. The Cathedrals' bass singer, George Younce, was waiting in the wings, backstage, watching and listening to Haase's performance. Obviously, George liked what he heard and saw because, within a week, Ernie was making his way to meet the group for his first performance as the Cathedrals' tenor. Shortly thereafter, Ernie had the opportunity to meet the entire Younce family. Ernie's attention was quickly captured by George's daughter, Lisa, and following a whirlwind courtship, the two married in December of 1990.
T"Lisa is my best friend. We just love spending time together."
Lisa helps Ernie in the Signature Sound office, handling the business affairs of the quartet, and when the two aren't busy working, they enjoy reading, biking and simply spending time together. In his spare time, Ernie enjoys playing basketball, collecting vintage albums of some of the great Gospel quartets and other Southern Gospel artists, and he has a huge collection of many classic recordings along with a wide variety of Elvis Presley memorabilia.
Doug Anderson
Lead Vocalist
Basketball fans who watched Doug Anderson play for Lapel High School in the late 1980s probably had no idea what his post high school ambition really was. Most probably assumed that the all-county, all-state player longed to become a college and NBA star. Little did they know that this standout athlete, who went on to play for Purdue University, actually aspired to become a full-time Gospel singer.
Of course, those who knew Doug best knew he was a product of a singing family and that his first love, indeed, was music. No one knew this more than Doug, himself, who believed with all his heart that God would one day allow him to live his dream of becoming a full-time quartet member.
That dream became a reality when Doug joined a quartet known as Lighthouse. His membership with Lighthouse led to a meeting with Ernie Haase when Lighthouse sang with Doug's favorite quartet, the Cathedrals. "Ernie was singing with the Cathedrals," Doug recalls, "and we developed a pretty good friendship. We had a mutual love for quartet music and basketball. Knowing one day that the Cathedrals would retire, Ernie told me if he ever started a group, he would call me. A few years later he did."
When EHSS is not on the road, Doug ministers as a solo artist. He has released 4 albums (Dreamin' Wide Awake, Drive, The Only One, and Back Porch Christmas) and has been honored with three GMA Dove Awards: Country Album of the Year 2012 (Dreamin' Wide Awake), Country Recorded Song of the Year 2014 ("Love With Open Arms"), and Country Album of the Year 2014 (Drive).
A small town boy at heart, Doug is thankful his career as a member of Signature Sound still allows him to live in his hometown of Lapel, IN. He and his wife, Michele, who were high school sweethearts, married in August of 1998. Michele shares Doug's love for sports, often calling him with scores and play-by-play updates when Doug is unable to watch a game due to his travels.
The couple has two beautiful daughters. Isabel is a graduate of Perdue University with a career in marketing, and Emma is an Architect/Design major at Ball State University. When they are together, they spend time attending sporting events, planning games and enjoying the outdoors as a family. "Family time is so precious," Doug says with a smile. "We spend every possible moment together."
Dustin Doyle
Lead Vocalist
Born and raised in a tiny community in south central Kentucky called Chalybeate (pronounced Klee-bee-yet), Dustin grew up in a Christian home and attended a church that was deeply rooted in Southern Gospel music. He soon would develop into an incredible talent, singing, playing, and also writing music. Being raised a pastor's son, Dustin gained a love for God and Christian music very early on and has always known that traveling and singing was a calling and thankfully, he's had the incredible opportunity to sing all over the world.
After graduating from Bethel University in McKenzie, TN, Dustin was offered the position of lead singer with Beyond The Ashes and traveled with the popular trio for three years.
His excitement of joining EHSS in 2015 is self-explanatory. "I've always felt the pull and the call to travel the world, and sing and tell my story," shares Dustin. "To be able to do that at this level with Signature Sound is an absolute dream come true."
Dustin met his wife, Aubrey, during their college years at Bethel, and they eventually married in May 2011. They continue to make their home in the small west Tennessee town of McKenzie. Aubrey is the Director of the Renaissance Musical Theatre Program. Dustin & Aubrey have been blessed with five beautiful children: Dawson, Lana, Clark, Della, and Charlie.
Dustin and Aubrey play active roles at Overflow Church in McKenzie, which they helped start with 11 people in 2015. The church is currently thriving and God has blessed immensely. Dustin leads worship when he's not on the road, and Aubrey leads the church's entire children's ministry. "I couldn't be more proud of how my wife sews into the lives of others. Her heart for children and for seeing lives changed inspires me every day."
Dustin plays several instruments, including guitar, piano, bass, and drums, and also enjoys writing his own music. He's also blessed with opportunities to produce and arrange music as well, which has become a big passion.
Additionally, Dustin's a huge movie buff, specifically Superman and Star Wars, and proud to 'claim' he knows pretty much all trivia-related questions regarding both series. Dustin also enjoys all things comic book and super hero-related.
He's also a big sports fan, especially the NBA and Major League Baseball.
Family is most important and comes first, however. "My favorite thing in the world is simply experiencing the fullness of this life with this big family with which God has so richly blessed me. Teaching my boys who are becoming young men, loving my daughters who are becoming little ladies – there's nothing better. It's messy. It's beautiful. And I wouldn't have it any other way."
Paul Harkey
Bass Vocalist
Paul Harkey calls George Younce one of his early influences, so the young bass singer can't help but feel right at home as a member of Ernie Haase & Signature Sound -- since Ernie is the son-in-law of the late great Cathedrals bass singer. Although Paul is disappointed that he never had the honor to meet George personally, he will always remember being an awestruck audience member attending a Gaither "Texas Homecoming" concert. As a result, Harkey especially admires three specific qualities about Younce as an artist -- his rhythm, his phrasing, and his heart. It's clear that the legend's example, along with the mentorship of both Tim Riley and Jeff Chapman, have all served Paul well in his career. According to Ernie Haase, Paul Harkey "has a voice that fills up the room," and brings "another level of excitement" to any live listening audience. On the road from 2007 to the present, Paul Harkey has enjoyed singing and touring with respected groups like Crystal River, The Anchormen, and The LeFevre Quartet. Having earned a bachelor's degree in Church Music from Wayland Baptist University in 2003, this Texas native has been well-prepared for his years with EHSS.
"I was called into ministry," Paul said about his positive time serving as a Church Minister of Music, who was encouraged to learn that singing on the road was just meant to be. "It's what I'm supposed to do and it allows me to fulfill what God's will is for me."
Ernie told Paul when he was hired that he was an obvious good match for the group. "Your voice and your talent will get you on the stage; the person you are off the stage will keep you on the stage."
"Your voice and your talent will get you on the stage; the person you are off the stage will keep you on the stage."
A self-described 'regular guy' who loves hunting and fishing, Paul is a family man who enjoys taking trips to the mountains of New Mexico, working with hunting dogs, and tinkering with and riding dirt bikes. In fact, his current collection includes five vintage bikes and one vintage three-wheeler. He and his wife Jennifer have three children: daughter Cameron, and sons Weston and Hudson.
About
Ernie Haase & Signature Sound
For two decades, Ernie Haase & Signature Sound have been sharing songs of hope around the world in four-part harmony. As Gospel music's premier quartet, Ernie Haase (tenor), Doug Anderson (lead), Dustin Doyle (lead) and Paul Harkey (bass) step up to their respective mics each night and perform with as much gusto as a burgeoning act.
Consistently topping Southern Gospel radio charts, the group has earned four GRAMMY® nods, numerous Gold® and Platinum® DVDs and six GMA Dove Awards. From singing on the hallowed stages of the Grand Ole Opry and Carnegie Hall, to delivering stirring renditions of the national anthem at NBA games and NASCAR events through the years, Ernie Haase & Signature Sound have also been a beloved fixture at Gaither Homecoming gatherings across the country.
As leading innovators of the genre, the quartet's musical risks have earned big payoffs as well. Their 2019 holiday collection, A Jazzy Little Christmas, landed in the Top 10 on Billboard's Jazz Albums chart and was named among the "Best Christmas Albums of 2019" by the Los Angeles Times. In addition, 2022's Decades of Love—a whopping 29-song set—showcases Ernie Haase & Signature Sound's unique arrangements of some of the world's most romantic standards, including "It Had To Be You," "Blue Moon," and "I'll Be Seeing You."
From the very beginning, the quartet has also maintained a global presence, performing to audiences in countless countries, including South Africa, New Zealand, Romania and the Netherlands—the latter where they returned to record their latest album, Live in Amsterdam: A 20th Anniversary Celebration, a legacy project that commemorates two decades of ministry.
Haase first garnered national attention as a tenor for the iconic Cathedral Quartet, whose founding member, George Younce, eventually became his father-in-law. Following 10 years with The Cathedrals — his musical heroes — Haase spent two years with the Old Friends Quartet (featuring Younce, The Statesmen's Jake Hess and Wesley Pritchard) and briefly performed as a solo artist. This led to the official formation of Ernie Haase & Signature Sound in 2003.
After the group appeared at a Gaither Homecoming "Jubilate" New Year's Eve celebration in 2005, Haase received a call from Gospel music trailblazer Bill Gaither, who said, "I think people need to see Signature Sound instead of just hear Signature Sound. People need to see your infectious joy."
With the backing of Gaither, 2007's Get Away Jordan released as a CD/DVD set and shot to No. 1 on the sales charts, solidifying Ernie Haase & Signature Sound's foray into visual media. The title-cut became the quartet's breakout hit, catapulting them to new heights. "There have been a lot of defining moments," Haase reflects on the group's career thus far, "but 'Get Away Jordan' was definitely a defining moment for us, and still is every night."
"Reason Enough" marked another milestone for the group, as friends encouraged Haase to further explore his talents as a songwriter. He penned "Reason Enough" with longtime producer, former Signature Sound member, and business partner Wayne Haun, as well as decorated songwriter Joel Lindsey. The original offering went on to be named Southern Gospel Recorded Song of the Year at the 2009 GMA Dove Awards.
Boasting a vocal lineup with few changes through the years, the quartet currently consists of founding members Haase and Anderson, along with Doyle and Harkey. Rounding out the group are Tyler Vestal on piano and Wes Jones on bass. "We've formed a really close-knit family, and there's a lot of grace and a lot of forgiveness between us," Haase reveals, "but there's also such a mutual love and admiration we have for one another."
In addition to the rare bond he shares with his Signature Sound brothers, Haase has created a family atmosphere that permeates his business venture, StowTown Records, the label he and Haun co-founded in 2011. With the intention to mentor and support other artists, StowTown's roster includes some of the most revered names in Southern Gospel, including Booth Brothers, Triumphant Quartet and Legacy Five, as well as comedian Tim Lovelace and pop/inspirational artists Charles Billingsley and TaRanda Greene. In addition, the label launched its StowTown Worship imprint last year with renowned genre pioneer The Brooklyn Tabernacle.
"Had it not been for George and Clara Younce and Bill and Gloria Gaither coming around us and saying, 'We can't do that, but we can help you do that,' I don't know that Signature Sound would have had the impact we've had," Haase asserts. "With StowTown, we're now able to do that for other artists we believe in."

As a forward-thinking artist and record label executive focused on the future, looking back isn't something Haase makes a habit of. However, as the two-decade anniversary approached for Signature Sound, such a momentous milestone couldn't go unnoticed. Live in Amsterdam: A 20th Anniversary Celebration marks the occasion with full orchestral arrangements of some of Ernie Haase & Signature Sound's most beloved hits, all helmed by Haun, a 39-time Dove Award winner. The location of the seminal recording holds a special place in the hearts of the quartet members as Amsterdam has provided some of the largest and most enthusiastic crowds the group has ever played to.
"This is my story, and this is God's grace in and through me," Haase says of the landmark project. "Sometimes to move forward, we have to understand the past. This record is me saying, 'For one shining moment, this is how it happened.'"
The 10-song collection boasts two selections with special significance to Haase, including "Oh, What A Savior"—a song he first began performing as an 18-year-old harmonizing with The Noblemen Quartet. "A singer needs a song, and a messenger needs a message, and 'Oh, What A Savior' has always been mine," he shares. "Jesus Changed Everything" is another personal track for Haase. He introduces the song on the recording by sharing the touching story that inspired it— the marriage and faith journey of his beloved parents.
While Live in Amsterdam: A 20th Anniversary Celebration serves as a prominent time capsule preserving the first two decades of Ernie Haase & Signature Sound's rich contributions to Gospel music, as always, their fearless leader can't help but look ahead.
In recent years, the vocalists have found unique new ways to expand their audience. "Friday Night Sing," a virtual time of stories and songs the group instated during the pandemic, has evolved into a weekly tradition, while their annual Signature Sound Fan Retreat continues to connect the quartet to their listeners in personal ways. Regardless, Haase contends the next 20 years are sure to hold even more innovation, growth and influence.
"All these years later, I still love bringing people together. I've been able to stick with it because the love has not run out — for making music, for singing harmony, or building events," Haase says, adding, "I think Signature Sound's biggest impact is yet to come. I don't have any proof of that, but I can tell you that it has always served me well to follow the promptings I feel are from the Lord. So, I'm ready to see where He takes us next."
Tyler VestalPiano
Growing up in a family with musical heritage and a love for Southern Gospel music, Tyler felt called to music ministry at an early age. He began playing the piano at age three, picking out notes and chords, playing entire songs by the time he reached elementary school.
In 2010, Tyler started traveling full-time with a few different groups including Rejoice, Freedom, & Beyond The Ashes.
Tyler joined EHSS in the summer of 2015 and quickly became a fan favorite. His gentle spirit and tasteful feel blends perfectly with Signature Sound. Tyler expresses creativity through music, and loves putting his own spin on things. He feels excited for this season of his life with Signature Sound, and can't wait to see what God has in store.
Tyler enjoys creating music in the studio setting and is also passionate about musical arrangement, as well as instrumental and vocal production. During his time off the road, he is honing that skill and hopes to have his own production company one day.
Tyler lives in Nashville, TN, with his wife Gerica, son Davis & daughter Ruby.
---
Wes Jones Bass Guitar
While only 36, Wes has been serving in ministry for 24 years. Music and working for the Lord has always been his passion – and he's not planning on stopping any time soon!
Wes grew up listening to Southern Gospel music and learned to play bass guitar at the age of eight. He started traveling with his family's local group, singing and playing bass & electric guitar, for the next ten years. Wes also spent time playing on the worship team and leading worship at his local church in Missouri. After Wes and Holly married in 2010, they served as youth pastors for several years in Texas before finally moving to Tennessee.
Wes joined EHSS in September 2019, and has delighted audiences with his smile, enthusiasm, sincerity and low notes ever since. Wes has called his tenure with EHSS "a dream come true."

Wes is a true outdoorsman who enjoys hunting and fishing. He also has a weakness for anything sweet! He is an avid Texas Rangers baseball fan – and always will be. Wes and Holly make their home in Nashville, TN.

---
Andrew (Drew) Goldman Drums
Andrew Goldman hails from Evansville, Indiana, and has a musical legacy that extends far beyond what EHSS fans see at a concert. Most notably, Andrew was the lead vocalist for The Perrys, but it wasn't until his consistent touring with Ernie Haase & Signature Sound that he finally recorded a solo single. "I Can" yields standing ovations night after night on the EHSS stage, and everyone who has heard the song understands why that is.
Andrew is a graduate of Oakland City University where he earned his Bachelors in Music Education and Vocal Performance, as well as his Masters in Strategic Management. He went on to teach at the college level before embracing his love as a performing artist.
As the world awakened from the 2020-2021 shut downs, Andrew was asked by Ernie Haase to run sound for EHSS. Happily, Andrew agreed. Since then, whenever there's been a need, Andrew has been Ernie's go-to guy. From driving the bus to serving as Tour/Production Manager, and from playing the drums on the Jazzy Little Christmas and Decades of Love tours to filling in when one of the vocalists was unable to sing, Andrew's response was always, "I can do that." So when Ernie, Wayne Haun and Joel Lindsey wrote the song "I Can," Ernie knew that was Andrew's song! And while the lyrics of the song don't specifically speak to Andrew's willing servant's heart, it is a testimony song for Drew.
Andrew and his wife Rebecca have been married since June 2014, and continue to make their home in Evansville, Indiana, with their beautiful children Avalynn Grace and Noah Thomas.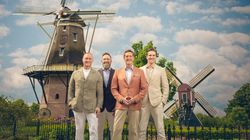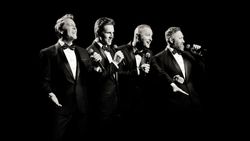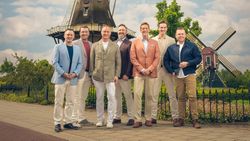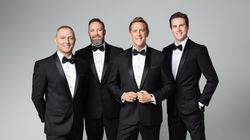 Videos
Good To Be Home [Official Lyric Video]
"You're The Inspiration" [Official Lyric Video]
Update Required
To play the media you will need to update your browser to a recent version or update your
Flash plugin
.
Contact
Corporate Office:
Ernie Haase & Signature Sound
P.O. Box 2288
Stow, Ohio 44224 USA