Ernie Haase + Signature Sound
Join Ernie Haase + Signature Sound's Mailing List
Want To Book an EHSS Concert in Your Area?
CLICK HERE
About
Ernie Haase
Doug Anderson
Dustin Doyle
Paul Harkey
Ernie Haase
Ernie and Lisa make their home in Stow, Ohio, the foundation for StowTown Records. Ernie started his legendary quartet (EHSS) in 2003. Then, in 2011, he helped begin this specialty Southern Gospel record label along with good friend and fellow co-founder Wayne Haun. StowTown Records has become one of gospel music's fastest-rising labels that includes powerhouse groups like EHSS, Triumphant Quartet, and The Collingsworth Family.
At a very young age, Ernie shared with his parents the desire to "sing for Jesus," and he's been fulfilling that desire ever since.
The Newburgh, IN, native grew up enjoying the sounds of Gospel music and, more specifically, quartet music. His favorite quartet was the legendary Cathedrals.
"I remember going to hear them sing anytime they were near my hometown. When I was a teenager, I would always show up early, sometimes even before they did, and help them unload their bus. It was my dream to sing with them one day."
That dream became a reality in 1990, when Ernie received the call to join his favorite quartet. At the time Ernie, who had previously sung with renown songwriter Squire Parsons in his quartet, Redeemed, was doing solo concerts and traveling in his car wherever he was invited to sing. On one particular night in the spring of 1990, Ernie was invited to sing at his alma mater, Oakland City University. Also scheduled at the concert was the Cathedrals. Little did Ernie know that his performance that evening would serve as his unofficial audition for the legendary quartet. The Cathedrals' bass singer, George Younce, was waiting in the wings, backstage, watching and listening to Haase's performance. Obviously, George liked what he heard and saw because, within a week, Ernie was making his way to meet the group for his first performance as the Cathedrals' tenor. Shortly thereafter, Ernie had the opportunity to meet the entire Younce family. Ernie's attention was quickly captured by George's daughter, Lisa, and following a whirlwind courtship, the two married in December of 1990.
"Lisa is my best friend. We just love spending time together."
Lisa helps Ernie in the Signature Sound office, handling the business affairs of the quartet, and when the two aren't busy working, they enjoy reading, biking and simply spending time together. The two often take trips to their favorite city, Chicago. In his spare time, Ernie enjoys playing basketball, collecting vintage albums of some of the great Gospel quartets and other Southern Gospel artists, and he has a huge collection of many classic recordings along with a wide variety of Elvis Presley memorabilia.
Doug Anderson
Basketball fans who watched Doug Anderson play for Lapel High School in the late 1980s probably had no idea what his post high school ambition really was. Most probably assumed that the all-county, all-state player longed to become a college and NBA star. Little did they know that this standout athlete, who went on to play for Purdue University, actually aspired to become a full-time Gospel singer.
Of course, those who knew Doug best knew he was a product of a singing family and that his first love, indeed, was music. No one knew this more than Doug, himself, who believed with all his heart that God would one day allow him to live his dream of becoming a full-time quartet member.
That dream became a reality when Doug joined a quartet known as Lighthouse. His membership with Lighthouse led to a meeting with Ernie Haase when Lighthouse sang with Doug's favorite quartet, the Cathedrals. "Ernie was singing with the Cathedrals," Doug recalls, "and we developed a pretty good friendship. We had a mutual love for quartet music and basketball. Knowing one day that the Cathedrals would retire, Ernie told me if he ever started a group, he would call me. A few years later he did."
When EHSS is not on the road, Doug ministers as a solo artist. He has released 4 albums (Dreamin' Wide Awake, Drive, The Only One, and Back Porch Christmas) and has been honored with three GMA Dove Awards: Country Album of the Year 2012 (Dreamin' Wide Awake), Country Recorded Song of the Year 2014 ("Love With Open Arms"), and Country Album of the Year 2014 (Drive).
A small town boy at heart, Doug is thankful his career as a member of Signature Sound still allows him to live in his hometown of Lapel, IN. He and his wife, Michele, who were high school sweethearts, married in August of 1998. Michele shares Doug's love for sports, often calling him with scores and play-by-play updates when Doug is unable to watch a game due to his travels.
The couple has two beautiful daughters. Isabel is at Perdue University and Emma attends Ball State University. Both enjoy watching and playing a variety of sports with their parents. "Family time is so precious," Doug says with a smile. "We spend every possible moment together."
Dustin Doyle
Born and raised in a tiny community in south central Kentucky called Chalybeate (pronounced Klee-bee-yet), Dustin grew up in an old time Baptist church that was deeply rooted in southern gospel music. He soon would develop into an incredible talent, singing, playing, and also writing music. Being raised a pastor's son, Dustin gained a love for God and Christian music very early on and has always known that traveling and singing gospel music was his calling, so he is thankful that calling is now being fulfilled.
He's had the incredible opportunity to sing all over the country and in several regions of the Philippines. After graduating from Bethel University in McKenzie, TN, Dustin was offered the position of lead singer with Beyond The Ashes and traveled with the popular trio for three years.
His excitement of joining EHSS in 2015 is self-explanatory.
"Singing with Signature Sound is a literal dream come true," said Dustin. "I've been listening to them since they started and I feel that God has answered my prayers. He's given me the platform that I've always wanted which is to sing amazing music and to make His name great."
Dustin met his wife, Aubrey, during their college years at Bethel, and they eventually married in May 2011. They continue to make their home in the small west Tennessee town of McKenzie. Aubrey is the associate director of the Renaissance Musical Theatre Department. Dustin & Aubrey have been blessed with four beautiful children: Dawson, Lana, Clark and Della.
Dustin plays several instruments, including guitar, piano, bass, and drums, and also enjoys writing songs and leading worship while at home. In addition, he's a huge movie buff, specifically Superman and Star Wars, and proud to 'claim' he knows pretty much all trivia-related questions regarding both series'. Dustin also enjoys all things comic book and super hero-related.
He's also a big sports fan, especially the NBA and Major League Baseball.
Family is most important and comes first, however.
"My favorite thing in the world is hanging out with my family, my wife, and playing with our kids," Dustin proudly added.
Paul Harkey
Paul Harkey calls George Younce one of his early influences, so the young bass singer can't help but feel right at home as a member of Ernie Haase & Signature Sound -- since Ernie is the son-in-law of the late great Cathedrals bass singer. Although Paul is disappointed that he never had the honor to meet George personally, he will always remember being an awestruck audience member attending a Gaither "Texas Homecoming" concert. As a result, Harkey especially admires three specific qualities about Younce as an artist -- his rhythm, his phrasing, and his heart. It's clear that the legend's example, along with the mentorship of both Tim Riley and Jeff Chapman, have all served Paul well in his career. According to Ernie Haase, Paul Harkey "has a voice that fills up the room," and brings "another level of excitement" to any live listening audience. On the road from 2007 to the present, Paul Harkey has enjoyed singing and touring with respected groups like Crystal River, The Anchormen, and The LeFevre Quartet. Having earned a bachelor's degree in Church Music from Wayland Baptist University in 2003, this Texas native has been well-prepared for his years with EHSS.
"I was called into ministry," Paul said about his positive time serving as a Church Minister of Music, who was encouraged to learn that singing on the road was just meant to be. "It's what I'm supposed to do and it allows me to fulfill what God's will is for me."
Ernie told Paul when he was hired that he was an obvious good match for the group.
"Your voice and your talent will get you on the stage; the person you are off the stage will keep you on the stage."
Paul is certain to make a long-lasting connection with the EHSS audience, since he believes that "the fans are the main reason we're there – to meet them...to minister to them."
A self-described 'regular guy' who loves hunting and fishing, Paul is a family man who enjoys taking trips to the mountains of New Mexico, working with hunting dogs, and riding dirt bikes. He and his wife Jennifer have three children: daughter Cameron, and sons Weston and Hudson.
About
From its formation in 2003, Ernie Haase has built Signature Sound into one of the most popular and beloved quartets in all of Southern Gospel music. The group has traveled all over the world, offering energy, excitement and encouragement through its powerful brand of gospel music. EHSS continues to gain fans all around the globe with its unique performances and unmistakable four-part harmonies. EHSS is one of the most celebrated quartets in Southern Gospel History mentioned with the same "trailblazing" reverence as groups likes The Statesmen Quartet and The Cathedral Quartet.
EHSS has sung and sold to millions worldwide, a feat that has not been accomplished by any other Southern Gospel quartet. From concerts in Latvia and India to South Africa and New Zealand, events all around North America, TV appearances on ESPN with NASCAR, multiple NBA appearances singing our National Anthem, and even a specialty tour of historic American theaters in support of the EHSS Broadway project, Signature Sound is a world-renowned quartet that spans a wide variety of genres and cultures.
As group founder, Haase is a creative, hard-working tenor whose early roots with the unforgettable and legendary Southern Gospel quartet, The Cathedrals, helped begin his dream to form a powerhouse group of his own. Along with many appearances through the years on the widely regarded Gaither Homecoming Tour, his goal was soon accomplished and then some...as EHSS quickly gained an international platform in gospel music.
Ernie Haase & Signature Sound is both GRAMMY(R)-nominated and GMA Dove Award-winning, a radio favorite in the United States and internationally, and a leader in CD sales and long form music video sales--with several RIAA(R)-certified Gold(R) and Platinum(R) DVDs.
Tyler VestalPiano
Growing up in a family with musical heritage and a love for southern gospel, Tyler felt called to music ministry at an early age. He began playing the piano at age three, picking out notes and chords, eventually playing entire songs by the time he reached elementary school.
Starting in 2008, Tyler began traveling part-time. After he graduated from high school in 2010, he started traveling full-time with a few different groups including Rejoice, Freedom, & Beyond The Ashes.
Tyler joined EHSS in the summer of 2015 and easily became a fan favorite. His gentle spirit and tasteful feel blends perfectly with Signature Sound. Tyler expresses creativity through music, and loves putting his own spin on things. He feels excited for this season of his life with Signature Sound, and can't wait to see what God has in store.
Tyler met his wife Gerica in early 2016 and they married in 2017. They live in Nashville, TN, and love spending time together with their son, Davis.
Follow Tyler on Instagram: @tvestal91
---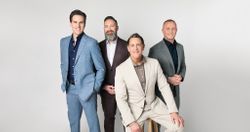 Tour
7:00PM
This concert is also available as part of the EHSS Fan Retreat, which will be June 1-4, 2023. For tickets for just this concert, or to get information about the EHSS Fan Retreat, click the TICKETS button.

Retreat packages may only be made by calling the box office at (855) 344-7547.

7:00PM
This concert is also available as part of the EHSS Fan Retreat, which will be June 1-4, 2023. For tickets for just this concert, or to get information about the EHSS Fan Retreat, click the TICKETS button.

Retreat packages may only be made by calling the box office at (855) 344-7547.

Ohio Star Theater

Decades of Love Concert!
1:00PM
This concert is also available as part of the EHSS Fan Retreat, which will be June 1-4, 2023. For tickets for just this concert, or to get information about the EHSS Fan Retreat, click the TICKETS button.

Retreat packages may only be made by calling the box office at (855) 344-7547.

Purchase tickets by phone: (800) 965-9324 or (704) 242-1515
6:00PM
Tickets on sale beginning April 15, 2023!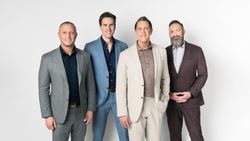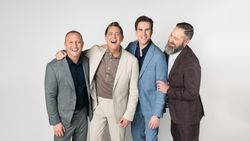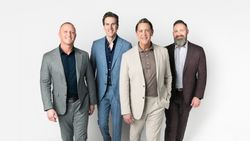 Videos
Good To Be Home [Official Lyric Video]
"You're The Inspiration" [Official Lyric Video]
"Keep On Keeping On" Official Lyric Video
Update Required
To play the media you will need to update your browser to a recent version or update your
Flash plugin
.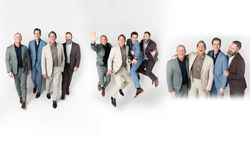 Contact
Corporate Office:
Ernie Haase & Signature Sound
P.O. Box 2288
Stow, Ohio 44224 USA